Sales CRM for small teams with big ambitions. Our software is used by more than 50,000 customers around the world, among them are companies like Teamwork, Postmates, Falcon Social, RE/MAX, Mixcloud and Discovery Channel.
Pipedrive's roots are in direct sales. As sales managers and trainers, two of the co-founders experienced an increasing amount of pain with CRM software. There simply was no good solution for managing the company's sales pipeline.
So in 2010 they teamed up with talented developers to create Pipedrive, a simple and yet powerful tool for managing sales.
We have offices in New York and Tallinn, Estonia. And we are proud to be part of AngelPad alumni.
Company Name:


Pipedrive

(View Trends)

Headquarters: (View Map)

New York, NY, United States

Computer Software

200 - 500 employees
PERSON
ROLE
CONTACT INFO & EMAIL
ACTIONS
5077 Global Rank
3568 United States
7.55 M Estimated Visits
Traffic Sources
Direct

81.36%

Search

9.83%

Mail

6.17%

Social

1.78%

Referrals

0.79%

Display

0.07%
Powered by
Global Rank 4,520 2,813
Links In Count 213 70
United States Rank
1,693
1,140
United States Page Views
45.9%
4.3%
Mobile App Data
MixRank is the most comprehensive database of mobile apps, developers, SDKs, technologies, services, and integrations.
Learn more.
10 SDKs
4.68 Avg. Rating
392 Total reviews
App Url: https://itunes.apple.com/app/pipedrive/id921456160
App Support: http://support.pipedrive.com?utm_source=itunes&utm_medium=store&utm_content=support
Genre: Business
Bundle ID: com.pipedrive.Pipedrive
App Size: 84.2 M
Version: 13.24
Release Date: November 10th, 2014
Update Date: October 7th, 2020
Description:
Stay on top of your sales pipeline with the iOS app for Pipedrive.
Pipedrive is a powerful sales CRM for small teams with big ambitions. It helps you focus on the right contacts and gives you more control over your sales results.
With Pipedrive for iOS you can access your contacts, deal history and to-do's, create tasks and take meeting notes wherever you are - all changes are instantly synced to Pipedrive web app.
? Access your to-do list and contacts instantly.
? Log your phone calls.
? Explore your business on a map view.
? Schedule better with a smart agenda view while planning new activities.
? Look up customer and deal details on the go.
? Access files related to your contacts and deals.
? Record or type meeting and call notes - synced instantly to web app.
? Powerful offline syncing for those long flights and metro rides.
? Start new calls and emails with just one click.
? Get the powerful combination of mobile + web.
A Pipedrive account is required to use Pipedrive for iOS.
Daily Downloads Oct 01 - 31, 2020
Intuitive awesome way to drive business
Swapping my pipeline into pipedrive from a clunky internally developed CRM tool has given my team visibility, drive, enthusiasm and results not seen before we did so. Love the customisation options and ease of use. Brilliant!
A class act!
I've tried several CRM apps and software packages, some doing a better job than others. What I love about Pipedrive though is its scalable functionality, offering more database control, capture and reporting just as it's needed. It's exceptionally user friendly and highly intuitive, and encourages me to a higher degree of productivity. Added to this, it is stable and dependable, and has never crashed or lost any data. I'm impressed, and thankful to the Pipedrive team for building a tool that I now find indispensable. A class act!
Tested many other systems: like this one the most
It's simple to use but advanced if you want it to be. Logging a call or note is as easy as adding it to a word doc.
+++++
Great CRM for sales people. Highly Recommend. Easy to use and manage all your contacts.
Brilliant CRM system
Love this Pipedrive system. The desktop version is very easy to navigate, it's visually appealing and of course it's functionality is great. The mobile App is the icing on the cake. Really very good and impressive
Launch Services
AVFoundation
The AV Foundation framework provides an Objective-C interface for managing and playing audio-visual media in iOS and OS X applications.
Core Foundation Framework
Core Foundation is a framework that provides fundamental software services useful to application services, application environments, and to applications themselves. Core Foundation also provides abstractions for common data types, facilitates internationalization with Unicode string storage, and offers a suite of utilities such as plug-in support, XML property lists, URL resource access, and preferences.
Core Graphics
The Core Graphics framework is based on the Quartz advanced drawing engine. It provides low-level, lightweight 2D rendering with unmatched output fidelity. You use this framework to handle path-based drawing, transformations, color management, offscreen rendering, patterns, gradients and shadings, image data management, image creation, and image masking, as well as PDF document creation, display, and parsing.
Core Location Framework
The Core Location framework lets you determine the current location or heading associated with a device. The framework uses the available hardware to determine the user's position and heading. You use the classes and protocols in this framework to configure and schedule the delivery of location and heading events. You can also use it to define geographic regions and monitor when the user crosses the boundaries of those regions. In iOS, you can also define a region around a Bluetooth beacon.
Foundation Framework
MobileCoreServices
Quartz Core Framework
This collection of documents provides the API reference for the Quartz Core framework, which supports image processing and video image manipulation.
System Configuration F...
This collection of documents describes the programming interfaces of the System Configuration framework. The System Configuration framework provides functions that determine the reachability of target hosts in both a synchronous and an asynchronous manner. It also provides error detection facilities.
UIKit
The UIKit framework (UIKit.framework) provides the crucial infrastructure needed to construct and manage iOS apps. This framework provides the window and view architecture needed to manage an app's user interface, the event handling infrastructure needed to respond to user input, and the app model needed to drive the main run loop and interact with the system.
Native

0.00%

Standard

71.21%

Direct

28.79%
Longest Running Ad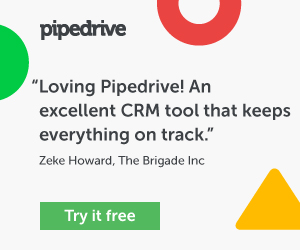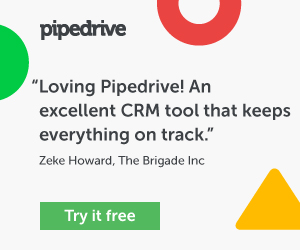 Dates Active
Dec 20, 2017 to Nov 23, 2019
Dates Active
Mar 23, 2019 to Dec 07, 2019
Dates Active
Mar 14, 2019 to Nov 24, 2019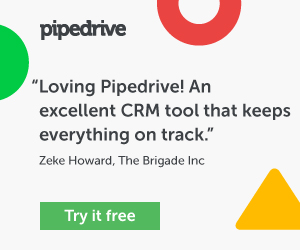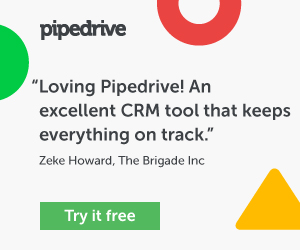 Dates Active
Dec 20, 2017 to Nov 23, 2019
Dates Active
Mar 15, 2019 to Dec 12, 2019
Dates Active
Mar 11, 2019 to Nov 22, 2019
Pipedrive receives up to 33.5M pageviews per day, in countries such as Viet Nam, India, Singapore, Turkey, Israel, Taiwan, Spain, United States, Hong Kong, Ireland, Australia, Finland, Estonia, Poland, Switzerland, Sweden, Argentina, United Kingdom, France, Portugal, South Korea, Brazil, Panama, Italy, Greece, South Africa, Mexico, Canada, Costa Rica, Germany.

They are headquartered at New York, NY, United States, and have 2 advertising & marketing contacts listed on Thalamus. Pipedrive works with Advertising technology companies such as Google Remarketing, Twitter Ads, Facebook Exchange FBX, AppNexus, Openads/OpenX, Yahoo Small Business, IponWeb BidSwitch, Bizo, Facebook Custom Audiences, Criteo, LinkedIn Ads, Rubicon Project, Index Exchange, Pubmatic, DoubleClick Bid Manager, Ad Tech Japan AOL, Advertising.com, AdRoll, DoubleClick.Net, Google Adsense, Google Floodlight Counter.