We make things for people who want to find their better. Things that athletes are proud to wear, associates are proud to create and communities are proud to host. We work hard today so we can improve tomorrow. We are New Balance. And we are always in Beta.
Part of what makes New Balance so unique is our commitment to making products that not only provide performance, but also superior fit and comfort. To ensure the best fitting, best performing shoes and apparel, we focus on improving our technology and production methods. Our philosophy is simple: Listen, learn and refine. It?s an approach to technology that puts us face to face with world class athletes and everyday athletes alike. It keeps us focused on the goal we share with everyone who runs, walks, or competes. The same attention that is placed on our athletic shoes and apparel is also placed on our associates. We seek talented individuals that fit into our team-oriented atmosphere. Additionally, we are proud to have an environment that offers the comfort of a true work/life Balance. We have remained strongly committed to a core set of company values that include integrity, teamwork and total customer satisfaction. At New Balance, movement is the center of everything we do. We?re looking for team members that are just as committed to moving our brands, people and company forward.
For more information, visit www.newbalance.com and follow http://www.twitter.com/newbalance,
http://www.instagram.com/newbalance
PERSON
ROLE
CONTACT INFO & EMAIL
ACTIONS
10500 Global Rank
2317 United States
3.92 M Estimated Visits
Traffic Sources
Search

56.84%

Direct

33.18%

Display

3.88%

Social

2.69%

Referrals

2.05%

Mail

1.37%
Powered by
Global Rank 10,506 4,962
Links In Count 1,725 169
United States Rank
2,565
1,130
United States Page Views
71.7%
6.4%
Top Search Keywords
Consumer Goods and Services
Footwear
Athletic
Mobile App Data
MixRank is the most comprehensive database of mobile apps, developers, SDKs, technologies, services, and integrations.
Learn more.
10 SDKs
4.21 Avg. Rating
263 Total reviews
App Url: https://itunes.apple.com/app/new-balance/id985741128
App Support: https://www.newbalance.com
Genre: Shopping
Bundle ID: com.newbalance.MyNB
App Size: 208 M
Version: 1.7.7
Release Date: May 19th, 2015
Update Date: January 10th, 2018
Description:
Shop the gear you want, enhance your workouts and earn rewards with the NB app.
? Shop anywhere, anytime for New Balance gear
? Earn and redeem points with myNB Rewards
? Get push notifications about the latest and greatest products
? Check out quickly and easily with Apple Pay
? Track workouts with your NB RunIQ smartwatch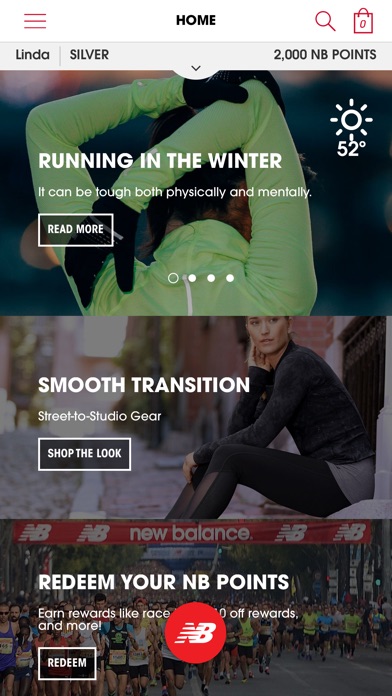 Love it
Such a great app and easy to use
Love NB
I have been wearing 990 series since 2013! I stand for 9 hours a day at work and these shoes are a life saver!
Disappointing
I wanted to shop for some new shoes. App kept directing me to activities I did not request. Still don't know how to shop for NB shoes thru the app. Maybe Nike's or Adidas's apps are easier to use?
Great App
Easy to use and very well organized.
I can't shop!
Love that the app provides so many different items. Navigation is a bit of a bear, and I would like a more detailed description of, say, the shoes. But my biggest problem at this moment is, after I have selected the items I want to buy, I go to my shopping cart. I click on the button that says purchase items, and it goes to a new screen.....a blank screen....and there it stays. I have tried exiting the app and going back in, but still no luck. Hopefully this will be remedied soon. In the meantime, I suppose I'll go online. But, honestly, I would prefer not to. Once it's fixed, I'll update my review.
Fav shop
Nice app, good shoes, easy to get.
Launch Services
Core Foundation Framework
Core Foundation is a framework that provides fundamental software services useful to application services, application environments, and to applications themselves. Core Foundation also provides abstractions for common data types, facilitates internationalization with Unicode string storage, and offers a suite of utilities such as plug-in support, XML property lists, URL resource access, and preferences.
Core Graphics
The Core Graphics framework is based on the Quartz advanced drawing engine. It provides low-level, lightweight 2D rendering with unmatched output fidelity. You use this framework to handle path-based drawing, transformations, color management, offscreen rendering, patterns, gradients and shadings, image data management, image creation, and image masking, as well as PDF document creation, display, and parsing.
Foundation Framework
MobileCoreServices
Quartz Core Framework
This collection of documents provides the API reference for the Quartz Core framework, which supports image processing and video image manipulation.
System Configuration F...
This collection of documents describes the programming interfaces of the System Configuration framework. The System Configuration framework provides functions that determine the reachability of target hosts in both a synchronous and an asynchronous manner. It also provides error detection facilities.
AVFoundation
The AV Foundation framework provides an Objective-C interface for managing and playing audio-visual media in iOS and OS X applications.
Core Location Framework
The Core Location framework lets you determine the current location or heading associated with a device. The framework uses the available hardware to determine the user's position and heading. You use the classes and protocols in this framework to configure and schedule the delivery of location and heading events. You can also use it to define geographic regions and monitor when the user crosses the boundaries of those regions. In iOS, you can also define a region around a Bluetooth beacon.
UIKit
The UIKit framework (UIKit.framework) provides the crucial infrastructure needed to construct and manage iOS apps. This framework provides the window and view architecture needed to manage an app's user interface, the event handling infrastructure needed to respond to user input, and the app model needed to drive the main run loop and interact with the system.
Native

1.22%

Standard

95.92%

Direct

2.86%
Longest Running Ad
Dates Active
Dec 20, 2017 to Sep 06, 2019
Dates Active
Jul 13, 2019 to Sep 22, 2019
Dates Active
Jun 13, 2019 to Oct 21, 2019
Dates Active
Jun 13, 2019 to Oct 23, 2019
Dates Active
Jul 10, 2019 to Sep 13, 2019
Dates Active
Jul 18, 2019 to Oct 13, 2019
Dates Active
Oct 07, 2019 to Oct 07, 2019
Dates Active
Oct 07, 2019 to Oct 07, 2019
Dates Active
Oct 15, 2019 to Oct 15, 2019
Dates Active
Oct 22, 2019 to Oct 22, 2019
Dates Active
Jul 16, 2019 to Jul 16, 2019
New Balance receives up to 1.5M pageviews per day, in countries such as India, Egypt, Turkey, United States, Hong Kong, Canada, Japan.

They are headquartered at Boston, MA, United States, and have 55 advertising & marketing contacts listed on Thalamus. New Balance works with Advertising technology companies such as Google Remarketing, Yahoo Publisher Network, Rubicon Project, Turn, RadiumOne, Yield Manager, Feed Perfect, DoubleClick.Net, Atlas, Google Adsense, mediaFORGE, Facebook Exchange FBX, Adify, AppNexus, Openads/OpenX, Yahoo Small Business, Pubmatic, AOL-Time Warner Online Advertising, AppNexus Segment Pixel, Twitter Ads, C3 Metrics, Amazon Ad System, Amazon Associates, Index Exchange, Rocket Fuel, Facebook Custom Audiences, eXelate, Eyeota, The Trade Desk, Neustar AdAdvisor, Geniee, X Plus One, Aggregate Knowledge, SpotXchange, Tapad, DemDex, IponWeb BidSwitch, Advertising.com, Media Innovation Group, Link Share, Taboola, Improve Digital, Adobe Audience Manager Sync, DoubleClick Bid Manager, BlueKai DMP, BlueKai, PebblePost, SkimLinks, Adbrain, Infolinks, VigLink, Adap.TV, Walmart, TripleLift, Media.net, NextPerformance, Snap Pixel, Criteo, Criteo OneTag, ContextWeb, Magnetic, Tribal Fusion, Drawbridge, Nativo, Teads, Omnitag, Outbrain, Sharethrough, Podsights.