Databricksí mission is to accelerate innovation for its customers by unifying Data Science, Engineering and Business. Founded by the team who created Apache Spark?, Databricks provides a Unified Analytics Platform for data science teams to collaborate with data engineering and lines of business to build data products. Users achieve faster time-to-value with Databricks by creating analytic workflows that go from ETL and interactive exploration to production. The company also makes it easier for its users to focus on their data by providing a fully managed, scalable, and secure cloud infrastructure that reduces operational complexity and total cost of ownership. Databricks, venture-backed by Andreessen Horowitz, NEA and Battery Ventures, among others, has a global customer base that includes Salesforce, Viacom, Shell and HP. For more information, visit www.databricks.com.
Company Name:


Databricks

(View Trends)

Headquarters: (View Map)

San Francisco, CA, United States

Computer Software

200 - 500 employees
PERSON
ROLE
CONTACT INFO & EMAIL
ACTIONS
Engineering Manager, Growth Team
Senior Director of Partner Marketing
21683 Global Rank
8535 United States
1.25 M Estimated Visits
Traffic Sources
Search

46.96%

Direct

39.85%

Social

6.09%

Referrals

4.61%

Mail

2.09%

Display

0.41%
Geography Breakdown
42.17%

13.49%

6.17%

2.72%
Powered by
Global Rank 15,457 11,278
Links In Count 223 13
United States Rank
4,738
3,148
United States Page Views
54.8%
12.6%
Mobile App Data
MixRank is the most comprehensive database of mobile apps, developers, SDKs, technologies, services, and integrations.
Learn more.
App Url: https://itunes.apple.com/app/databricks-1/id1040663683
App Support: http://support.guidebook.com
Genre: Business
Bundle ID: com.guidebook.apps.sparksumit
App Size: 97.5 M
Version: 3.0
Release Date: October 15th, 2015
Update Date: December 16th, 2017
Description:
Welcome to the largest data & machine learning conference in the world. It's a unique experience for developers, data engineers, data scientists, and decision-makers to collaborate at the intersection of data and ML. Attendees will learn about the latest advances in Apache Spark and ML technologies like TensorFlow, MLflow, PyTorch as well as real-world enterprise AI best practices.
Data and AI need to be unified: the best AI applications require massive amounts of constantly updated training data to build state-of-the-art models. So far. Apache Spark is the only unified analytics engine that combines large-scale data processing with state-of-the-art machine learning and AI algorithms
The sessions and training at this conference will cover data engineering and data science content, along with best practices for productionizing AI: keeping training data fresh with stream processing, quality monitoring, testing, and serving models at massive scale. The conference will also include deep-dive sessions on popular software frameworks—e.g., TensorFlow, SciKit-Learn, Keras, PyTorch, DeepLearning4J, BigDL, and deep learning pipelines.
Combining Spark + AI topics, this conference is a unique "one-stop shop" for developers, data scientists, and tech executives seeking to apply the best tools in data and AI to build innovative products. Join more than 1,700 engineers, data scientists, AI experts, researchers, and business professionals for three days of in-depth learning and networking.
Daily Downloads Oct 01 - 31, 2020
Native

0.00%

Standard

100.00%

Direct

0.00%
Longest Running Ad
Dates Active
Jun 06, 2019 to Dec 11, 2019
Dates Active
Oct 06, 2019 to Nov 04, 2019
Dates Active
Nov 13, 2019 to Nov 20, 2019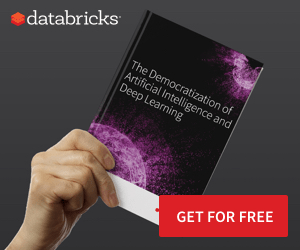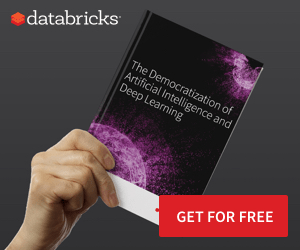 Dates Active
Nov 13, 2019 to Nov 20, 2019
Dates Active
Nov 13, 2019 to Nov 20, 2019
Dates Active
Nov 13, 2019 to Nov 20, 2019
Databricks receives up to 6.9M pageviews per day, in countries such as India, Israel, United States, Iran, Australia, Finland, Poland, United Kingdom, South Korea, Italy, Netherlands, Canada, China, Germany.

They are headquartered at San Francisco, CA, United States, and have 3 advertising & marketing contacts listed on Thalamus. Databricks works with Advertising technology companies such as Dstillery, Google Remarketing, DoubleClick.Net, Twitter Ads, Facebook Custom Audiences, LinkedIn Ads, AppNexus, AppNexus Segment Pixel, Bizo, DoubleClick Bid Manager, Adblade, Google Adsense, Google Adsense Asynchronous, Google AdSense Integrator, Atlas.