123.ie is a leading Irish insurance company and one of the great Irish commercial success stories in recent years. We offer Home, Car, Travel, Health, Pet and Life insurance cover.
Launched in 2002, we entered the market with a simple proposition: to offer great value insurance together with excellent cover and exceptional customer care to customers all over Ireland.
123.ie became part of the RSA group in 2010 and, as a result, now enjoys the support of a major global organisation.
We strive to provide a great online experience and our advanced call centre allows us to meet the needs of the customer regardless of their chosen channel. At 123.ie customer experience is at the heart of everything we do. Our reputation is sustained through our highly efficient staff combined with an excellent approach to the servicing and retention of new and existing customers.
Why work with us?
We have a 300 strong team here in Dublin and we pride ourselves on our friendly and professional work environment. We invest in our people and this is reflected in the very positive feedback we receive from our customers. We are determined to ensure that our teams are recognised for their knowledge of insurance policies and the coverage these policies provide.
Our continued success is ensured by our highly motivated and ambitious team. To that end, we nurture an open-minded, collaborative and rewarding ethos, staffed with enthusiastic people who are committed to building a world-class workplace.
169336 Global Rank
717 Ireland
169 K Estimated Visits
Traffic Sources
Search

58.31%

Direct

36.31%

Mail

3.74%

Display

0.60%

Referrals

0.59%

Social

0.44%
Geography Breakdown
93.94%

2.39%

0.99%

0.62%

0.46%
Powered by
Global Rank 189,695 949,504
Links In Count 95 14
Ireland Rank
855
Ireland Page Views
92.5%
Mobile App Data
MixRank is the most comprehensive database of mobile apps, developers, SDKs, technologies, services, and integrations.
Learn more.
App Url: https://itunes.apple.com/app/123-ie/id583936788
App Support: http://123.ie
Genre: Utilities
Bundle ID: com.123.123ie
App Size: 7.03 M
Version: 1.1
Release Date: December 10th, 2012
Update Date: March 26th, 2013
Description:
123.ie's insurance App provides all you need to manage your Car Insurance policy and your vehicle.
It provides access to services and support when you need it. Our list of service providers can be
located anywhere in Ireland and the App provides 24 hour claims access.
Contact 123.ie directly to make changes to your policy or get a quote for Car, Home, Travel, Pet and
Health Insurance.
Use Car Finder to save where you parked your car and find it later.
Reminders when your parking will expire.
Access to 123.ie's network of suppliers including; Vehicle Repairs, Windscreen, Breakdown assist and
car hire.
Capture claim details, including photos of the scene, and report a claim.
Receive relevant news and information.
Receive Push Notifications when your NCT and Car Tax are due.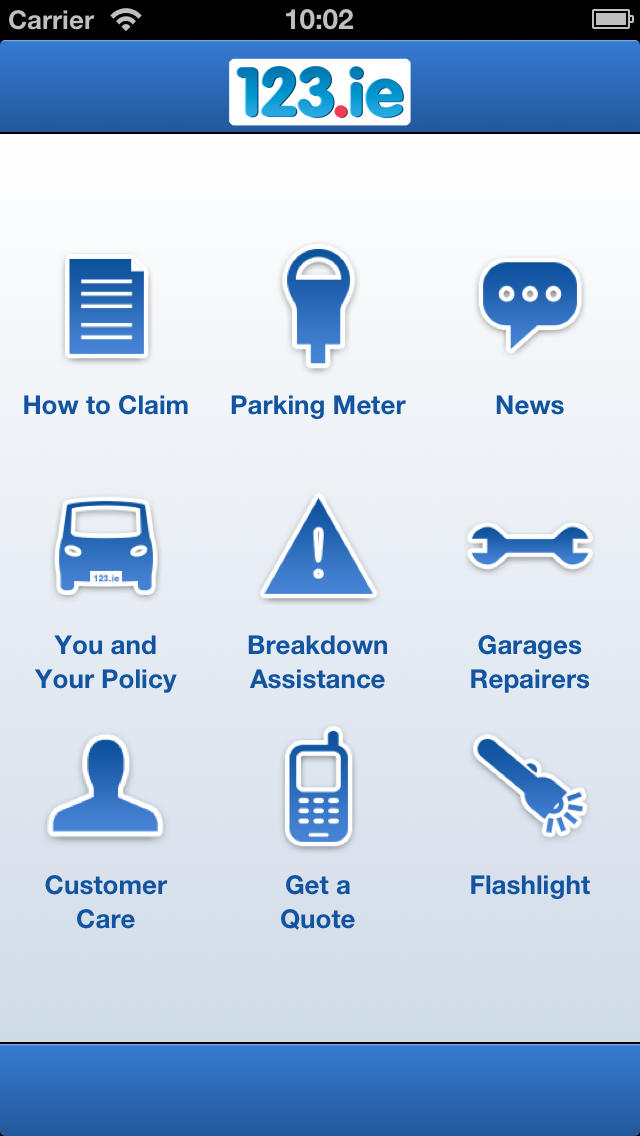 Longest Running Ad
Dates Active
Nov 14, 2017 to Nov 14, 2017
123.ie receives up to 0.08M pageviews per day.

They are headquartered at Dublin, Ireland, and have advertising & marketing contacts listed on Thalamus. 123.ie works with Advertising technology companies such as DoubleClick.Net, AdRoll, AppNexus, Turn, AppNexus Segment Pixel, Facebook Exchange FBX, Openads/OpenX, Yahoo Small Business, Rubicon Project, Index Exchange, IponWeb BidSwitch, Facebook Custom Audiences, Pubmatic, Media Innovation Group, DoubleClick Bid Manager, Ad Tech Japan AOL, Taboola, AdMatic, Google Remarketing, Advertising.com, The Trade Desk, Adap.TV, Snap Pixel, SkimLinks, Tapad, Google Floodlight Counter.