1-800-GOT-JUNK? is a franchise-based, full-service junk removal company dedicated to helping people reclaim the space in their homes and businesses. A pioneer of professional junk removal, 1-800-GOT-JUNK? has set the standard for exceptional customer service. Friendly, uniformed drivers call customers in advance, arrive on schedule, haul junk away from where it?s located, and provide a full clean-up. Items we remove include things that garbage collectors typically do not take, including: household furniture and electronics, clothing, renovation debris, and assorted junk. Commercial customers include property managers, retailers, realtors, government offices, disaster relief, and construction and renovation workers, to name a few. Environmental sustainability is important to us. Wherever possible items are recycled or donated to charity, with current landfill diversion rates at 61.3 percent.
1-800-GOT-JUNK? has been recognized as workplace of choice through numerous awards, including Best Place to Work in BC, Great Workplaces in Canada, and 50 Most Engaged Workplaces. We are an equal opportunity employer that offers a fantastic culture that is òAll About Peopleó, and where personal and professional wins are celebrated.
1-800-GOT-JUNK? has approximately 175 locations throughout Canada, the United States, and Australia. For more information, including new franchise opportunities, please visit www.1800gotjunk.com.
1-800-GOT-JUNK? Alliances:
Aeroplan Miles
Canadian Automobile Association (CAA)
Access Rewards
National Association of Professional Organizers (NAPO)
North American Association of Senior Move Managers (NASMM)
CitiBank Rewards
RecycleBank
General Services Administration (GSA)
PERSON
ROLE
CONTACT INFO & EMAIL
ACTIONS
76338 Global Rank
16141 United States
559 K Estimated Visits
Traffic Sources
Search

81.09%

Direct

13.43%

Referrals

2.92%

Mail

1.31%

Display

0.65%

Social

0.59%
Geography Breakdown
85.89%

10.67%

0.94%

0.33%

0.29%
Powered by
Global Rank 79,927 65,576
Links In Count 396 16
United States Rank
21,778
15,463
United States Page Views
80.5%
8.9%
Native

1.53%

Standard

98.47%

Direct

0.00%
Longest Running Ad
Dates Active
Dec 19, 2017 to Aug 16, 2019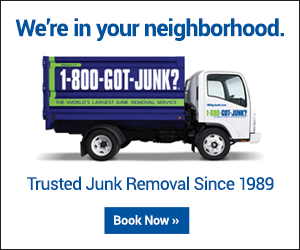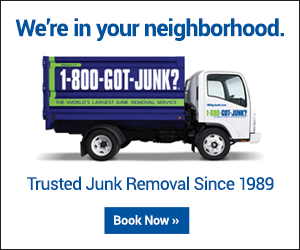 Dates Active
May 13, 2018 to Dec 12, 2019
Dates Active
Apr 09, 2018 to Dec 13, 2019
Dates Active
May 15, 2018 to Dec 12, 2019
Dates Active
Mar 07, 2018 to Dec 11, 2019
Dates Active
Feb 01, 2018 to Dec 02, 2019
Dates Active
Jun 30, 2019 to Jun 30, 2019
Dates Active
Jul 01, 2019 to Jul 01, 2019
1-800-got-junk? receives up to 0.67M pageviews per day, in countries such as United States, Canada.

They have 1 advertising & marketing contacts listed on Thalamus. 1-800-got-junk? works with Advertising technology companies such as Google Remarketing, DoubleClick.Net, Google Adsense, The Trade Desk, Facebook Exchange FBX, Drawbridge, Tapad, BlueKai DMP, BlueKai, DemDex, DoubleClick Bid Manager, Rubicon Project, eXelate, Eyeota, ContextWeb, AppNexus, Openads/OpenX, Yahoo Small Business, Pubmatic, Index Exchange, Criteo, IponWeb BidSwitch, Facebook Custom Audiences, Adobe Audience Manager Sync, Criteo OneTag, Teads, AppNexus Segment Pixel, ADTECH, Improve Digital, Open AdStream, adingo, Advertising.com, Falk Realtime, Burst Media, GumGum, Adbrain, Adap.TV, AdRoll, SkimLinks, Media Innovation Group, Fyber, Zedo, Between Digital.