Commercial broadcast media group
Capabilities
Desktop Display

Mobile Display

Email

Social
Desktop Display, Mobile Display, Email, Social

Headline:


Publisher: Catch up TV | Entertainment | News | Sport | Soaps and all your favorite Irish and International shows fro TV3
Key Differentiator


TV3's branded content team is a unique client-facing, cross-functional division operating within TV3's commercial department. The team works with clients to understand their campaign objectives and will deliver results through the use of all, or a combination of; spot, sponsorship, promotions, digital, content, product placement, advertiser funded programming and production.

Approved 3rd Party Ad Serving / Rich Media Vendors


Sizmek - http://www.sizmek.com
PERSON
ROLE
CONTACT INFO & EMAIL
ACTIONS
5295926 Global Rank
480862 Ireland
1.58 M Estimated Visits
Traffic Sources
Direct

92.43%

Search

7.57%

Display

0.00%

Mail

0.00%

Referrals

0.00%

Social

0.00%
Powered by
Global Rank 216,376 3,232,208
Links In Count 1,140 163
Mobile App Data
MixRank is the most comprehensive database of mobile apps, developers, SDKs, technologies, services, and integrations.
Learn more.
10 SDKs
1.64 Avg. Rating
268 Total reviews
App Url: https://itunes.apple.com/app/tv3-television-ireland/id602597705
App Support: https://www.virginmediatelevision.ie/contact
Genre: Entertainment
Bundle ID: ie.tv3.3player
Version: 4.0.3
Release Date: February 19th, 2013
Update Date: February 13th, 2020
Description:
Virgin Media Player is the new name for 3player! Watch your favourite shows from Virgin Media Television live or on demand.
Watch the best entertainment, factual and reality shows from Virgin Media Television with the Virgin Media Player app.
Stream live television or catch up on all your favourite shows from Virgin Media One, Virgin Media Two, Virgin Media Three. From Coronation Street and Emmerdale to the very best in home-produced content and a whole host of live sport – with the Virgin Media Player you can watch it all wherever you are.
You can search for shows by name or by date and save them as a favourite so you pick up on a programme where you left off. Sign up for a Virgin Media Player account for free so you can get personal recommendations of what to watch next and download the episodes you want to save for later and watch offline. Registering is simple – you can use your Facebook and Google accounts or sign up with an email address.
So what are you waiting for?! Download the new and improved Virgin Media Player app to open up a whole world of entertainment at your fingertips.
We are always working to improve our service. If you have any suggestions or concerns about Virgin Media Player, please get in touch at PlayerSupport@virginmedia.ie.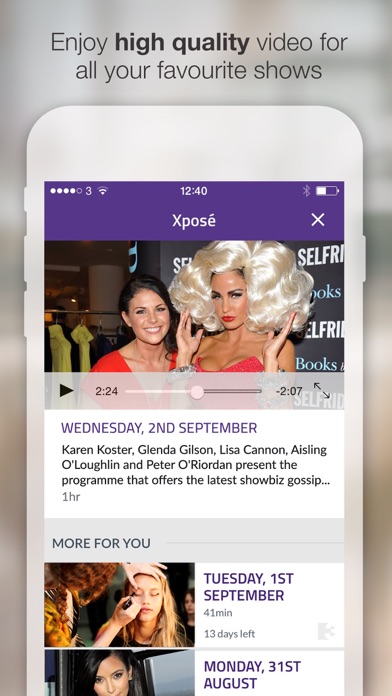 Daily Downloads Oct 01 - 31, 2020
Rubbish
Absolutely rubbish
Terrible App
The app is terrible! I try to watch the soaps on the player and it skips itself. The layout isn't great either. UTV Ireland had a much better layout and never skipped when it was playing. Please sort it out!
Worst app ever
If I could give minus stars I would everything Is wrong with it
Terrible App
Can't resume watching programme, you have to start at the beginning and go through all the adverts again. The RTE Player isn't even that bad.
Just doesn't work
Literally not functional. Frustrating as hell. You'd think a television broadcaster would be in a hurry to make a decent on-demand app. Sort it out for gods sake.
Mrs
Very annoying that app cannot remember what part of program you are at when you log back in from same device at same IP address. Have to go thru all the ads again. And each ad section again when scrolling back to where program was paused.
AVFoundation
The AV Foundation framework provides an Objective-C interface for managing and playing audio-visual media in iOS and OS X applications.
Core Foundation Framework
Core Foundation is a framework that provides fundamental software services useful to application services, application environments, and to applications themselves. Core Foundation also provides abstractions for common data types, facilitates internationalization with Unicode string storage, and offers a suite of utilities such as plug-in support, XML property lists, URL resource access, and preferences.
Core Graphics
The Core Graphics framework is based on the Quartz advanced drawing engine. It provides low-level, lightweight 2D rendering with unmatched output fidelity. You use this framework to handle path-based drawing, transformations, color management, offscreen rendering, patterns, gradients and shadings, image data management, image creation, and image masking, as well as PDF document creation, display, and parsing.
Core Location Framework
The Core Location framework lets you determine the current location or heading associated with a device. The framework uses the available hardware to determine the user's position and heading. You use the classes and protocols in this framework to configure and schedule the delivery of location and heading events. You can also use it to define geographic regions and monitor when the user crosses the boundaries of those regions. In iOS, you can also define a region around a Bluetooth beacon.
Foundation Framework
Launch Services
MobileCoreServices
Quartz Core Framework
This collection of documents provides the API reference for the Quartz Core framework, which supports image processing and video image manipulation.
System Configuration F...
This collection of documents describes the programming interfaces of the System Configuration framework. The System Configuration framework provides functions that determine the reachability of target hosts in both a synchronous and an asynchronous manner. It also provides error detection facilities.
UIKit
The UIKit framework (UIKit.framework) provides the crucial infrastructure needed to construct and manage iOS apps. This framework provides the window and view architecture needed to manage an app's user interface, the event handling infrastructure needed to respond to user input, and the app model needed to drive the main run loop and interact with the system.
Longest Running Ad
Dates Active
Aug 04, 2018 to Aug 02, 2020
TV3 advertising reaches 1.58M visitors across desktop and mobile web, in countries such as . Pricing models they offer are CPM on channels such as Display, Mobile, Email, Social Advertising on TV3 will allow you to reach consumers in industries or verticals such as .

They are headquartered at Ballymount, Ireland, and have 2 advertising & marketing contacts listed on Thalamus. According to their Ads.txt, TV3 inventory partners include: google.com, ooyala.com, converge-digital.com.

TV3 works with Advertising technology companies such as Google Publisher Tag, DoubleClick.Net, Google Adsense for Search, ADTECH, Google Adsense, Evidon, Aggregate Knowledge, PointRoll, Mediaplex, The Trade Desk, Adconion, Specific Media, Yahoo Small Business, VINDICO, Integral Ad Science, AppNexus, DoubleVerify, Openads/OpenX, AppNexus Segment Pixel, SpotXchange, Turn, Conversant, Commission Junction, Magnetic, SiteScout, Connexity, AudienceScience, Simpli.fi, SkimLinks, InSkin Media, RadiumOne, Eyeota, Neustar AdAdvisor, BlueKai DMP, BlueKai, Advertising.com, Adap.TV, Flashtalking, Taboola, AdMob, Facebook Custom Audiences, IponWeb BidSwitch, ContextWeb, Ads.txt, Google Direct.