Fullscreen is a global youth media company that develops online creators and programs multi-platform entertainment experiences. 500 million subscribers generate more than 6 billion video views across Fullscreen's global network each month. Headquartered in Los Angeles, the company was founded in January 2011 by CEO George Strompolos, a co-creator of the original YouTube Partner Program. Fullscreen's network includes more than 60,000 creators, featuring the Fine Bros., Andrea Russett, Lohanthony, Devin Supertramp and Jack and Jack. Visit Fullscreen.com for more information.
Company Name:


Fullscreen

Parent Company Name:


Otter Media - WarnerMedia

(View Trends)

Headquarters: (View Map)

Los Angeles, CA, United States

1,000 - 5,000 employees
Capabilities
Mobile Display

Mobile Video

Native

Desktop Video
Mobile Display, Mobile Video, Native, Desktop Video

Headline:


Publisher
Key Differentiator


Our creative, our insights, and our client service get you front and center with teens and millennials, authentically and at scale.GET SEEN.Reach 365 million engaged subscribers in the connected generation through our premium content, data, and platform expertise.GET COOL.We're plugged into teens and millennials through talent who matter—earning you authentic relevance among the influencers fueling today's pop culture.GET RESULTS.Our service is truly end to end—combining technology, media, and high-touch service that we tailor in real time to achieve the outcomes you want.

Owned / Operated Properties


thefinebros

Approved 3rd Party Ad Serving / Rich Media Vendors


Sizmek - http://www.sizmek.com
PERSON
ROLE
CONTACT INFO & EMAIL
ACTIONS
490211 Global Rank
141684 United States
66.4 K Estimated Visits
Traffic Sources
Search

59.20%

Direct

32.42%

Social

7.08%

Referrals

1.31%

Display

0.00%

Mail

0.00%
Geography Breakdown
41.20%

5.48%

4.83%

3.74%

3.34%
Powered by
Global Rank 123,702 258
Links In Count 114 5
United States Rank
67,533
United States Page Views
52.2%
Mobile App Data
MixRank is the most comprehensive database of mobile apps, developers, SDKs, technologies, services, and integrations.
Learn more.
10 SDKs
3.52 Avg. Rating
659 Total reviews
App Url: https://itunes.apple.com/app/fullscreen-inc/id911138230
App Support: https://fullscreen.com/help
Genre: Entertainment
Bundle ID: com.Fullscreen.Hampton
App Size: 100 M
Version: 1.6.5
Release Date: April 26th, 2016
Update Date: October 23rd, 2017
Description:
Fullscreen's streaming service is ending January 5th.
In January 2018, the Fullscreen streaming service will be shutting down. We will no longer be billing current subscribers or taking new subscriptions effective November 18th and our official end date will be January 5th, 2018.
We have appreciated all the enthusiastic support for our shows and the never-ending love for your favorite creators.
While our streaming service may be ending, our commitment to amazing creators is only beginning. Keep an eye out for more exciting things to come in the future. Thank you for watching!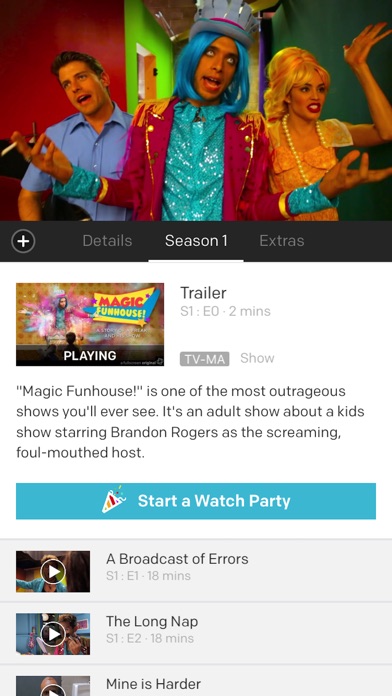 Fullscreen
I love this app , Because they have lots of different genres of films short films and series that are made for people who are transgender or gay. E.g. Suckles with Willam, I would also recommend this app to a friend
Love
I just love how they gave willam his own show and that's why you get extra great ratings ;) kidding it is a good app and has a variety of things to watch I definitely recommend
Payment
I can't even get the free trial because I don't have any form of payment yet, I can't watch anything decent at all on the app.
I like Turtles
I bought a subscription to watch Willam Belli... and it was worth it god dammit!
Content is poor in my opinion
Very little worth watching. Don't believe the hype
A Good App
I signed up for Shane & Friends and loved it. The content and app is great! Never had a problem.
Launch Services
AVFoundation
The AV Foundation framework provides an Objective-C interface for managing and playing audio-visual media in iOS and OS X applications.
Core Foundation Framework
Core Foundation is a framework that provides fundamental software services useful to application services, application environments, and to applications themselves. Core Foundation also provides abstractions for common data types, facilitates internationalization with Unicode string storage, and offers a suite of utilities such as plug-in support, XML property lists, URL resource access, and preferences.
Core Graphics
The Core Graphics framework is based on the Quartz advanced drawing engine. It provides low-level, lightweight 2D rendering with unmatched output fidelity. You use this framework to handle path-based drawing, transformations, color management, offscreen rendering, patterns, gradients and shadings, image data management, image creation, and image masking, as well as PDF document creation, display, and parsing.
Core Location Framework
The Core Location framework lets you determine the current location or heading associated with a device. The framework uses the available hardware to determine the user's position and heading. You use the classes and protocols in this framework to configure and schedule the delivery of location and heading events. You can also use it to define geographic regions and monitor when the user crosses the boundaries of those regions. In iOS, you can also define a region around a Bluetooth beacon.
Foundation Framework
MobileCoreServices
Quartz Core Framework
This collection of documents provides the API reference for the Quartz Core framework, which supports image processing and video image manipulation.
System Configuration F...
This collection of documents describes the programming interfaces of the System Configuration framework. The System Configuration framework provides functions that determine the reachability of target hosts in both a synchronous and an asynchronous manner. It also provides error detection facilities.
UIKit
The UIKit framework (UIKit.framework) provides the crucial infrastructure needed to construct and manage iOS apps. This framework provides the window and view architecture needed to manage an app's user interface, the event handling infrastructure needed to respond to user input, and the app model needed to drive the main run loop and interact with the system.
Fullscreen advertising reaches 66.4k visitors across desktop and mobile web, in countries such as United States, United Kingdom, India, Vietnam, Pakistan. Pricing models they offer are on channels such as Mobile, MobileVideo, Native, Video Advertising on Fullscreen will allow you to reach consumers in industries or verticals such as .

They are headquartered at Los Angeles, CA, United States, and have 107 advertising & marketing contacts listed on Thalamus.

Fullscreen works with Advertising technology companies such as DoubleClick.Net, DemDex, Adobe Audience Manager Sync, Facebook Custom Audiences.