CBC/Radio-Canada is Canada's national public broadcaster and one of its largest cultural institutions. The Corporation is a leader in reaching Canadians on new platforms and delivers a comprehensive range of radio, television, Internet, and satellite-based services. Deeply rooted in the regions, CBC/Radio-Canada is the only domestic broadcaster to offer diverse regional and cultural perspectives in English, French and eight Aboriginal languages.
Company Name:


CBC

(View Trends)

Office Locations:

Ottawa, ON

50 - 200 employees
Capabilities
Desktop Display

Social

Mobile Display

Email
Desktop Display, Social, Mobile Display, Email

Headline:


Publisher: CBC.ca - Canadian News Sports Entertainment Kids Docs Radio TV

Self / Managed Service:


Managed Service
Industries


Entertainment, Gaming, Government & Politics, Health & Beauty, Sports, Technology

Key Differentiator


From where Canada's been to where we're going together, CBC/Radio-Canada is there, on the leading edge, sharing Canada's journey step by step, day by day, with the news, content and commentary and culture that Canadians need today, tomorrow and in the future.Using the CBC/Radio-Canada gem to navigate, take some time to browse through who we are and what we do here at Canada's national public broadcaster.

Owned / Operated Properties


cbccountrycanada.ca, cbc.radio-canada.ca, radio-canada.ca

Approved 3rd Party Ad Serving / Rich Media Vendors


Sizmek - http://www.sizmek.com
PERSON
ROLE
CONTACT INFO & EMAIL
ACTIONS
0 Global Rank
0
139 K Estimated Visits
Traffic Sources
Search

46.72%

Referrals

27.86%

Direct

22.46%

Social

2.22%

Mail

0.74%

Display

0.00%
Powered by
Global Rank 1,062 5
Links In Count 44,709 3,762
Canada Rank
33
12
Canada Page Views
75.6%
4.5%
Mobile App Data
MixRank is the most comprehensive database of mobile apps, developers, SDKs, technologies, services, and integrations.
Learn more.
10 SDKs
2.09 Avg. Rating
186 Total reviews
App Url: https://itunes.apple.com/app/cbc/id1001665907
App Support: https://cbchelp.cbc.ca/hc/en-us/requests/new
Genre: Sports
Bundle ID: ca.cbc.CBCSports
App Size: 139 M
Version: 3.4.3
Release Date: June 26th, 2015
Update Date: August 13th, 2020
Description:
With a return to play, sports fans can look forward to their favourite teams getting back into the game. Watch the road to the Stanley Cup Finals - the CBC Sports app has the latest news, Hockey Night in Canada content, standings and more.
Covering Canadian Sports, Canadian athletes, Olympic and Paralympic Sports, the CBC Sports app delivers the top headlines, highlights and sports scores.
Live stream your favourite sports with hours of coverage and a focus on Olympic sports and Hockey Night in Canada.
You'll find full Olympic sports coverage including Paralympic sports and Parasports.
Watch highlights and video features of sports, including aquatics, curling, figure skating, golf, skiing, sliding, soccer, speed skating, Spruce Meadows, tennis, track and field.
Customize your alerts and news feed so you'll always get the top sports scores and news for the NHL, NBA, MLB, CFL and NFL.
Plus, you'll always find the best in-class coverage of women's sports.
Stream exclusives on Canadian athletes with Player's Own Voice.
Save articles to read on your own time.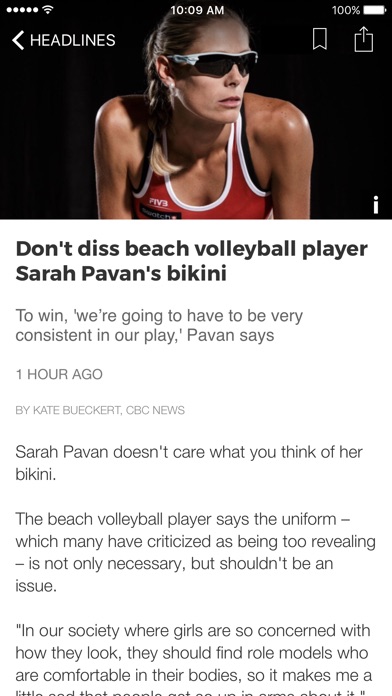 Daily Downloads Oct 01 - 31, 2020
Current version interrupts live broadcast, and that pop up ad...
Current version interrupts live broadcast, you have to manually press the play button to continue. They also added pop up ad, do not upgrade to this version will be my recommendation.
Doesn't support chomecast ??
I can't watch the videos on my tv.
Useless
Always videos with no audio, CBC refuses to address. I'd avoid!
Deeply dissapointed
Can't watch Hockey Night in Canada even though the CBC advertises that it streams the games for free. App does not work, fix it or lose it please. Thank you, eh!!
Downloaded the CBC Sports App to watch the game
...it keeps telling me I need to download the CBC Sports App! This, from within the app itself! Truly ugly piece of work. I'd give it zero if they allowed me.
AVFoundation
The AV Foundation framework provides an Objective-C interface for managing and playing audio-visual media in iOS and OS X applications.
Core Foundation Framework
Core Foundation is a framework that provides fundamental software services useful to application services, application environments, and to applications themselves. Core Foundation also provides abstractions for common data types, facilitates internationalization with Unicode string storage, and offers a suite of utilities such as plug-in support, XML property lists, URL resource access, and preferences.
Core Graphics
The Core Graphics framework is based on the Quartz advanced drawing engine. It provides low-level, lightweight 2D rendering with unmatched output fidelity. You use this framework to handle path-based drawing, transformations, color management, offscreen rendering, patterns, gradients and shadings, image data management, image creation, and image masking, as well as PDF document creation, display, and parsing.
Core Location Framework
The Core Location framework lets you determine the current location or heading associated with a device. The framework uses the available hardware to determine the user's position and heading. You use the classes and protocols in this framework to configure and schedule the delivery of location and heading events. You can also use it to define geographic regions and monitor when the user crosses the boundaries of those regions. In iOS, you can also define a region around a Bluetooth beacon.
Foundation Framework
Launch Services
MobileCoreServices
Quartz Core Framework
This collection of documents provides the API reference for the Quartz Core framework, which supports image processing and video image manipulation.
System Configuration F...
This collection of documents describes the programming interfaces of the System Configuration framework. The System Configuration framework provides functions that determine the reachability of target hosts in both a synchronous and an asynchronous manner. It also provides error detection facilities.
UIKit
The UIKit framework (UIKit.framework) provides the crucial infrastructure needed to construct and manage iOS apps. This framework provides the window and view architecture needed to manage an app's user interface, the event handling infrastructure needed to respond to user input, and the app model needed to drive the main run loop and interact with the system.
Native

0.11%

Standard

87.95%

Direct

11.94%
Longest Running Ad
Dates Active
Aug 06, 2018 to Aug 04, 2020
Dates Active
Apr 20, 2019 to Aug 20, 2020
Dates Active
Jun 25, 2020 to Aug 20, 2020
Dates Active
Jun 16, 2020 to Jun 25, 2020
Dates Active
May 15, 2020 to Jun 19, 2020
Dates Active
May 22, 2020 to Jul 03, 2020
Dates Active
May 01, 2020 to May 04, 2020
Dates Active
Apr 14, 2020 to Apr 14, 2020
Dates Active
Apr 19, 2020 to Apr 19, 2020
Dates Active
May 08, 2020 to May 08, 2020
Dates Active
Apr 16, 2020 to Apr 16, 2020
Ad Exchange
Type
Publisher ID
Certification ID
appnexus.com
direct
8994
f5ab79cb980f11d1
appnexus.com
reseller
1908
f5ab79cb980f11d1
advertising.com
direct
28557
appnexus.com
reseller
1908
f5ab79cb980f11d1
aps.amazon.com
direct
c4f4eec1-61fe-4185-a858-eb638ac3e1e4
districtm.io
direct
101929
3fd707be9c4527c3
districtm.io
reseller
100962
CBC advertising reaches 86.4M visitors across desktop and mobile web, in countries such as Canada, United States, United Kingdom, Germany, Australia. Pricing models they offer are CPM on channels such as Display, Social, Mobile, Email Advertising on CBC will allow you to reach consumers in industries or verticals such as Gaming, Technology, Health & Beauty, Government & Politics, Entertainment, Sports.

They are headquartered at Ottawa, Ontario, Canada, and have 101 advertising & marketing contacts listed on Thalamus. According to their Ads.txt, CBC inventory partners include: appnexus.com, advertising.com, aps.amazon.com, districtm.io, google.com, indexexchange.com, plista.com, rubiconproject.com, teads.tv, tritondigital.com, pubmatic.com, sovrn.com, lijit.com, yahoo.com, aol.com, gumgum.com, openx.com, triplelift.com, telaria.com, tremorhub.com, adtech.com.

CBC works with Advertising technology companies such as Digilant, Integral Ad Science, Optimax Media Delivery, Turn, Criteo, Viafoura, eyeReturn, The Trade Desk, Rocket Fuel, AdGear, eXelate, Eq Ads, Adify, Index Exchange, Dstillery, BlueKai, Link Share, Google Publisher Tag, Atlas, Yield Manager, Mediaplex, Conversant, AppNexus, Google Adsense, Visual Revenue, DoubleClick.Net, Brandscreen, Facebook Exchange FBX, MyBuys, Chango, Improve Digital, Advertising.com, Connexity, SiteScout, Centro, Evidon, AcuityAds, VINDICO, Yahoo Small Business, Burst Media, Rubicon Project, PointRoll, Openads/OpenX, Pubmatic, cXense, MyBuys MyAds, Magnetic, BlueKai DMP, Google Remarketing, Simpli.fi, Twitter Ads, AdRoll, SpotXchange, Videology, DemDex, IponWeb BidSwitch, DoubleVerify, Drawbridge, Media Innovation Group, RadiumOne, GumGum, Komoona, AudienceScience, Adhigh, Tribal Fusion, Adobe Audience Manager Sync, Facebook Custom Audiences, Falk Realtime, Header Tag by Index Exchange, Ads.txt, Google Direct, Teads Direct, 161Media, Bidtellect, Yahoo Ad Sync, Beeswax, IndexExchange Direct, Aggregate Knowledge, AppNexus Direct, Tapad, Eye View Digital, YieldBot, SkimLinks, Flashtalking, Neustar AdAdvisor, RUN Ads, Research Now, nToggle, Specific Media, StackAdapt, TripleLift, Teads, Google AdSense Integrator, Yieldmo, RubiconProject Direct, DynAdmic, Arrivalist, GetIntent.