Capabilities
Desktop Display

Mobile Display

Email

Social
Desktop Display, Mobile Display, Email, Social

Headline:


Publisher: 304 | #1 Guide to Seaside FLRosemary Beach Grayton Seagrove WaterColor
Key Differentiator


What's 30A? LIFE SHINES on Florida's Scenic Highway 30A. Speckled with artsy villages, rare coastal dune lakes, upscale resorts, funky beach bars, world-class restaurants and 25,000 acres of protected habitats, 30A is the birthplace of New Urbanism and is home to the purest white sand beaches in the world. "30A.com has exploded," said Southern Living. "What started as a way for a family to welcome friends has become an important Gulf Coast tourism tool."

Owned / Operated Properties


30aclassifieds.com, 30ahotels.com
PERSON
ROLE
CONTACT INFO & EMAIL
ACTIONS
300511 Global Rank
64668 United States
355 K Estimated Visits
Traffic Sources
Search

50.92%

Social

31.46%

Direct

15.95%

Referrals

1.67%

Display

0.00%

Mail

0.00%
Powered by
Global Rank 305,787 6,478
Links In Count 161 5
United States Rank
113,603
19,505
United States Page Views
75.4%
10.6%
Mobile App Data
MixRank is the most comprehensive database of mobile apps, developers, SDKs, technologies, services, and integrations.
Learn more.
App Url: https://itunes.apple.com/app/30a/id1071846429
App Support: http://30a.com/contact/
Genre: Travel
Bundle ID: hr.apps.207020851
App Size: 73.2 M
Version: 5.57.8
Release Date: January 6th, 2016
Update Date: March 1st, 2017
Description:
30A.com presents the ultimate guide to the 5th Annual 30A Wine Festival in Alys Beach. This event is a must-experience venue for the vintner's craft and the culinary arts. This year, the 30A Wine Festival will support the Children's Volunteer Health Network, a non-profit dedicated to providing access to health services for children in Walton and Okaloosa counties. For more information, visit www.30Awinefestival.com.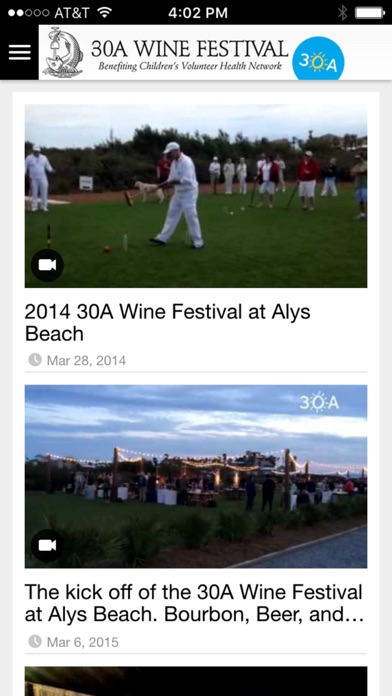 AVFoundation
The AV Foundation framework provides an Objective-C interface for managing and playing audio-visual media in iOS and OS X applications.
Core Foundation Framework
Core Foundation is a framework that provides fundamental software services useful to application services, application environments, and to applications themselves. Core Foundation also provides abstractions for common data types, facilitates internationalization with Unicode string storage, and offers a suite of utilities such as plug-in support, XML property lists, URL resource access, and preferences.
Core Graphics
The Core Graphics framework is based on the Quartz advanced drawing engine. It provides low-level, lightweight 2D rendering with unmatched output fidelity. You use this framework to handle path-based drawing, transformations, color management, offscreen rendering, patterns, gradients and shadings, image data management, image creation, and image masking, as well as PDF document creation, display, and parsing.
Core Location Framework
The Core Location framework lets you determine the current location or heading associated with a device. The framework uses the available hardware to determine the user's position and heading. You use the classes and protocols in this framework to configure and schedule the delivery of location and heading events. You can also use it to define geographic regions and monitor when the user crosses the boundaries of those regions. In iOS, you can also define a region around a Bluetooth beacon.
Foundation Framework
Launch Services
MobileCoreServices
Quartz Core Framework
This collection of documents provides the API reference for the Quartz Core framework, which supports image processing and video image manipulation.
System Configuration F...
This collection of documents describes the programming interfaces of the System Configuration framework. The System Configuration framework provides functions that determine the reachability of target hosts in both a synchronous and an asynchronous manner. It also provides error detection facilities.
UIKit
The UIKit framework (UIKit.framework) provides the crucial infrastructure needed to construct and manage iOS apps. This framework provides the window and view architecture needed to manage an app's user interface, the event handling infrastructure needed to respond to user input, and the app model needed to drive the main run loop and interact with the system.
Longest Running Ad
Dates Active
Aug 04, 2018 to Aug 02, 2020
Dates Active
Mar 05, 2020 to Oct 01, 2020
Dates Active
Jul 01, 2020 to Oct 01, 2020
Dates Active
Oct 03, 2018 to Oct 01, 2020
Dates Active
Feb 07, 2020 to Oct 01, 2020
Dates Active
Mar 19, 2020 to Sep 28, 2020
30A advertising reaches 355k visitors across desktop and mobile web, in countries such as United States, United Kingdom, Australia, Canada, Germany. Pricing models they offer are CPM on channels such as Display, Mobile, Email, Social Advertising on 30A will allow you to reach consumers in industries or verticals such as .

They are headquartered at Santa Rosa Beach, FL, United States, and have 1 advertising & marketing contacts listed on Thalamus.

30A works with Advertising technology companies such as DoubleClick.Net, Google Publisher Tag, Google Ad Partner Services, Google Adsense, Facebook Custom Audiences, Aggregate Knowledge, Google Remarketing, DoubleClick Bid Manager, AppNexus, Rubicon Project, Google AdSense Integrator.